In our private and professional daily life, we rely more and more on technical solutions.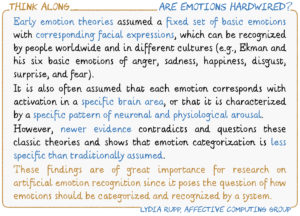 Applications implement algorithmic concepts that help us with various tasks. Assistants start to be a part of our society and provide us with useful interactive solutions. The more such systems are integrated into our social life, the more social and satisfying they should be.
We believe, that a satisfying social Human Computer Interaction has to be based on the principles of Human Human Interaction: We have to teach the computer about human emotions and behavioral patterns as well as social norms and values.
In our research and projects, we focus on analyzing Human Computer Interaction versus Human Human Interaction.
What are the similarities? What are the differences?
How to bring an interaction with a computer closer to what we are used to from interactions with humans?
To answer these questions, we integrate scientific principles, results, and theories from both the field of Psychology and Computer Science. Our interdisciplinary team consists of professionals from those fields. Quality of our highly interdisciplinary work is based on strict methodological standards.
The close cooperation with our partners takes our work to a practical level and is already being used successfully due to our user-oriented approach. Our location at the German Research Center for Artificial Intelligence (DFKI) in Saarbrücken gives us access to a wide network of methods and techniques in the area of Artificial Intelligence.
The two research areas – Psychology and Computer Science – hold the potential to produce results yet undiscovered and unknown to the scientific community. But our work is not exclusively of interest to the scientific community – it is of relevance to everybody who is interested in the development and future aspirations in Affective Computing.
News
April 11th 2019: We are welcoming Paul Mc Kevitt as a guest in our group for a two day research discussion with Jürgen Trouvain about digital empathy.
Winter 2019: We proudly introduce the Affective Computing Think Along Box with the great topic "Are emotions hardwired?" created by the group member Lydia Rupp. Enjoy reading!
Winter 2019: Check the projects of our latest interdisciplinary (Psychology, Computer Science) seminar "How to build a Social Computer".
Fall 2018: DEEP workshop at the chair of Prof. Elisabeth André in Augsburg with experts in Psychology, Prof. Dr. Eva Bänninger-Huber and Prof. Dr. Svenja Taubner.