The impact of room colour and light in a job interview induced in a virtual environment
Bachelor thesis written by Anke Hirsch
There's plenty of scientific research about the influence of room colour and light on cognition and mood – but only in the real world. Nowadays we should also explore virtual reality. In an experiment we investigated how participants of a job interview with a virtual character reacted to two different settings: Brightly illuminated and light green painted virtual environment versus sparely illuminated and dark red virtual environment.
In the bright green setting participants rated the interviewer, the treatment during the interview, the openness and fairness of the selection process and their own self-representation more positive than the ones in the dark red environment.
These results show that room design can influence the perception and thus the performance of an interviewee, even when the interview takes place in a virtual reality – which might be the case more often in the future. Employers should ideally choose an environment that makes the interviewees feel more competent and one that gives them a positive impression of the interview. To provide fairness, the room design should be the same for all interviewees.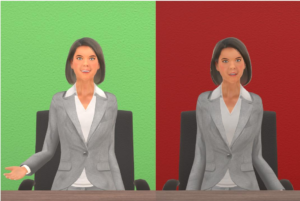 Facial expressions of a virtual character: Smiling in the light green room (on the left) and frowning in the red room (on the right).